Friday, September 16th, 2011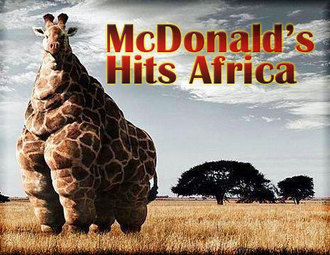 This week saw a shift in the way global health pundits and practitioners talked about the most important health issues faced on the African continent.
In Africa, NCDs are anticipated to overtake mortality from all other diseases (combined) by 2030
With the UN Summit on Non-Communicable Diseases just 3 days away, everyone is scrambling to have something to say. Many organizations are talking more about their work with HIV and cervical cancer, rates of obesity increasing in South Africa, and even Michigan has been talking about its high rates of tobacco use and the effect that has on the health care system. Will NCDs take precedence over infectious diseases?
South Africa: Non-Communicable Diseases Take Center Stage
The Deputy Minister of Health, Dr Gwen Ramokgopa noted, "We need to ensure that the NCDs don't reach the [level] of HIV and Aids." In a country like South Africa, already struggling with managing a weak health care system in rural and peri-urban areas and the onslaught of HIV/AIDS, the advent of increasing cases of NCDs is troubling. How can a system already taxed to the extreme handle so many chronic conditions when it doesn't have the capacity. South Africa has one of the more advanced health care systems on the continent, so this is an indication of how other countries health systems might fair as NCDs become more prominent.
South Africa: Primary Health Care gets an EU Boost
In a newly launched program aimed at assisting the South African government to improve quality of and access to primary health care services; fight HIV/Aids and TB and improve maternal and child health – goals which are informed by the National Service Delivery Agreement, South African priorities and the NSP for HIV and Aids (2011 – 2014). This is a welcome boost and Health Minister Dr Aaron Motsoaledi spoke of re-engineering the health care system to be more comprehensive with programs focused at the District level and within schools.
Namibia: Choosing Health – Harder than it Seems
The government plans to subsidize farmers in order to help Namibian access healthier foods. Currently the best options are expensive imported products and for many low-income Namibians this is just not an option. "This trend is not unique to Namibia. Countries like the United States of America have tomes of research that show that the poorer you are the fewer healthier eating options you have."
Burundi: A Dozen Killed in Cholera Outbreak
"It's all a matter of behaviour change; if the water is treated and if all partners sensitized the population in the use of latrines, there would be no problem" said Vénérand Nzigamasabo, head of the department of disaster management and assistance to vulnerable people at the Burundi Red Cross. Cholera outbreaks aren't breaking news in African countries, but in the past year there has been an increase in the number of outbreaks. Many times people talk about water supply and sanitation, but its not often that you hear someone talking about cholera related to behaviour changes. Efforts to contain the outbreak continue, with the Red Cross announcing it would distribute more hygiene kits – comprising jerry cans, soap and buckets – next week. "The treatment of water at home is also envisaged since water-trucking is very expensive," Nzigamasabo said.
Submit your stories and interesting links for the Week of Africa Health by tweeting us: @scoutbanana