Monday, November 1st, 2010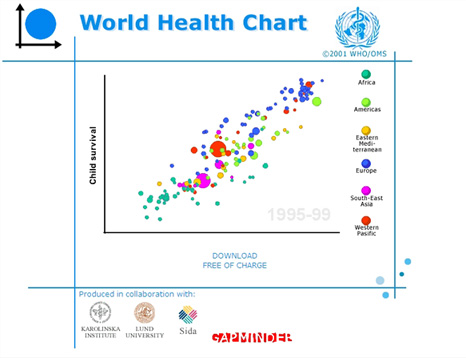 Health has long been a gift that we have attempted to give to the rest of the world. Disease eradication programs, vaccination outreach campaigns, and the Western biomedical system have all been spread to countries near and far. These gifts were often colonialist in design, given without community consent, and without regard to culture or custom. Contrary to Thomas Friedman's thoughts, the world is not flat. Rather we live in a world that is increasingly connected by technology, but still remains sharply separated by those who have and those who don't.
When it comes to global health, we no longer have the luxury of saying, "those people over there have health issues." There is no simple separation between "us" and "them." Health problems aren't over there any more than they are right here. In the US, lifestyle choices contribute to heart disease, diabetes, obesity, and lung cancer. When we talk of disparities in access health in other parts of the world, we cannot forget the glaring health disparities in US inner cities and across communities of color.
The curtain has been lifted and hopefully we have looked in the mirror to see that we too have health issues in our country. While the ideas to make health better have long come from the West and developed countries, that paradigm is no longer applicable to global health today. Our world is still expansive, but we are more connected than ever before. With the internet at our finger tips and friends across the ocean only a skype call away, solutions in global health come from around the world. The past demonstrated that "developed" countries believed they were giving something valuable to those who didn't have what they had. The result was a plethora of failed aid goals, missing life-saving medications, and decrepit health care systems.
Innovations for better health come from all around the world. It is no longer the "developed" giving ideas to the "developing." The increasing use of mobile phones have inspired some exciting programs for health records management while SMS and texting have led to revolutions in access to health knowledge and care. However, it isn't always technology ideas that are most effective. Developing countries have reminded us how important and critical health insurance can be, while at the same time demonstrating the severe need for more trained health care workers. Models that train community health workers, access micro-health insurance on your mobile phone, and social enterprises that provide ambulance emergency services have all been launched in "developing" countries. I can only hope that our health care system can take the time to look around the world for ways to improve.
For many years, complex issues in international development and global health have been tackled by simplified single-issue campaigns that have created short-term "band-aid" solutions. This can be attributed to the limited view most Americans have of the world. For many, issues of global health remain remote and abstract. We, young people, have grown up with the internet in our laps, basic knowledge of different cultures around the world in our classrooms, access to easier communications and travel, and more opportunities to study abroad and participate in global exchanges. These factors have made the world seem more connected, and have bestowed upon us the capability to serve as the key drivers of social change.
We must bridge the divide between rich and poor, privileged and oppressed, developed and developing. We, as privileged young people, can be the voice that changes the actions of our largest institutions to focus on programs that work, projects that benefit people in need, and efforts to build healthier communities.
Reposted from the Blog of Americans for Informed Democracy, where I am writing as a Global Health Issue Analyst.